A new approach on potholes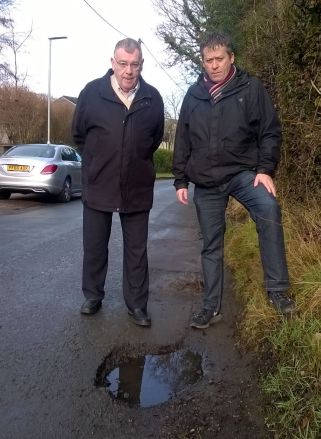 Last year, Our West Lancashire county council candidates, Ian Davis and Gordon Johnson called for action and a new approach to West Lancashire's potholed roads.
In 2016, our research uncovered that West Lancashire had the worst pot-holed roads in the county. In early 2017 Cottage Lane in Ormskirk was voted the worst road in England by long-suffering motorists. Thankfully, it has now been resurfaced. Yet the problems continue. Burscough recently featured as the community with the worst potholes in the northwest on regional TV news.
Our West Lancashire's action plan:
Money—Changes to funding so more money is spent in the parts of Lancashire where the roads are in worst condition, meaning West Lancashire would benefit.
"Right first time" repairs—employ more monitors to oversee the contractors so that repairs don't fail after a few weeks, as happens too often.
Quicker repairs—Employ council staff to inspect road surfaces instead of relying on residents to report potholes.
Fix all potholes in the vicinity not just the one on the list—Abandon the current system which sees potholes repaired in a strict list/priority order and fix all the potholes in a neighbourhood at the same time—reducing travel time and costs. UPDATE: The County Council have adopted this idea which is a welcome step forward.