Latest News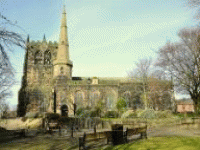 Horrific assault in Ormskirk Town Centre
20th January 2019
'Glassing' attack in Ormskirk town centre raises concerns for authorities
Read more
Serious Questions raised over proposed new Council House Building Arm
2nd January 2019 UPDATED: 8th January
OWL Finance Spokesman writes to council Chief Executive as connection between council advisers and major landowner emerges
Read more
Residents benefit from extra parking spaces
20th December 2018
Westhead residents have more parking spaces after intervention from OWL councillor
Read more
OWL councillors call for Government Action on Leasehold Reform
7th December 2018
Borough Council to debate problems faced by local residents on some housing estates
Read more
Another example of the Influence of Independent Councillors
21st October 2018
Labour adopt OWL idea to reduce councillor numbers
Read more
Community Christmas Tree to return to Ormskirk Parish Church
15th October 2018
Christmas Tree and Crib set to return again after successful reinstatement last Christmas.
Read more
Council can't answer resident questions over Local Plan Consultation
13th September 2018
Police called to packed council cabinet meeting
Read more
Safer junctions needed to reduce injury toll on County Road
28th August 2018
Petition launched by campaigners for red light cameras to be installed
Read more
Labour propose using taxpayer money to boost student landlord profits
22nd July 2018
Half-baked proposal from Labour contrasts poorly with OWL policy on surplus student housing
Read more
Call to turn surplus student houses into low cost family homes
15th July 2018
Council motion seeks a £1 million fund to start to address housing imbalances
Read more
Kate Mitchell selected to fight Knowsley ward by-election
28th June 2018
Fed up of same old "perfect on paper" council candidates? – Then please vote for me says Kate Mitchell.
Read more
Current state of roundabout gives the impression of a miserable and neglected market town
20th June 2018
Kate Mitchell says council should be ashamed and calls for effort to resotre roundabout to its former glory
Read more
Finally Cllr Moon resigns
1st June 2018
Statement on resignation of Cllr Paul Moon
Read more
Council must act justly over blue box users
13th May 2018
Our West Lancashire contacted by concerned residents over plans to charge them over blue box use
Read more
Come and join us say Independents after further election success
4th May 2018
Strong increases in support for Independents in Election show an increased desire for change among local voters
Read more
OWLs unveil a £1 million fund to buy back former student houses
10th March 2018
New fund is just part of a radical new approach to tackling Ormskirk's unbalanced communities
Read more
Facilitators or Barrier Builders?
7th March 2018
If maximising the use of Ormskirk's historic town centre is of interest to you, please read on.
Read more
Dismay over proposed changes to car park charges
25th February 2018
Proposed changes fail to recognise how the high street has changed
Read more
Spring Clean of Ormskirk Town Centre - 3rd March - Can you help?
19th February 2018
Community clean up of town centre's alleyways as part of the Great British Spring Clean
Read more
Town Centre paving 'an obstacle course in places'
5th February 2018 UPDATED: 17th February 2018
Ormskirk activist criticises slow action in carrying our repairs to loose and damaged paving
Read more
Let community run Skelmersdale 3G Football Pitch
28th January 2018
Skelmersdale Community Group should be given the keys to run Glenburn's 3G football facility for benefit of town
Read more
End Delay and make Promised new Car Parking Offer
15th January 2018
Hard-pressed Ormskirk retailers need to see an end to the five-month delay
Read more
New seating welcomed in Ormskirk Town Centre
3rd January 2018
Needs of older and less mobile shoppers recognised by council after OWL intervention
Read more
Watch our 2017 Annual Report
31st December 2017
We feedback to local residents on our activities during 2017
Read more
Cut 'jobs for the boys' at County Hall
27th November 2017
OWL call for the number of extra councillor allowances to be massively cut.
Read more
Community Christmas Tree Light Switch On
18th November 2017
Arrangements announced for Community Christmas Tree Lights Switch On as Ormskirk responds magnificently to fundraising appeal
Read more
Labour Council Group 'out of touch'
4th November 2017
Every Labour councillor present votes against motion for fair contribution from student landlords
Read more
Let's bring back the Christmas Tree by Ormskirk's Parish Church
23rd October 2017
A Community Fundraising Appeal is launched to reinstate town's much-loved feature from Christmases past
Read more
Looming £1.3m Budget Gap set for Council Debate
15th October 2017
The effect of student housing making no contribution to council coffers to be discussed
Read more
Possible Site for Park and Ride Identified
10th October 2017
Renewed Call for Park and Ride to ease Ormskirk's Congestion and Parking Problems
Read more
Persistence and Community Effort finally pays off
5th October 2017
After 2 years, success for OWL activist, Jane Thompson
Read more
Pressure on County Council sees restored grass cutting service
14th September 2017
However, now Borough council plans to reduce grass cutting!
Read more
County Council decision branded 'crazy'
21st August 2017
County Council decline offer of FREE professional grounds maintenance on gateway roundabout
Read more
Proposals to reduce budget for grass cutting should be rejected
31st July 2017
Residents urged to make their views known in public consultation
Read more
Victory- Plans for Search & Fine Cameras Abandoned
22 July 2017
Labour council confirm their plans have hit the rocks
Read more
Motions tabled for council debate on concerns of residents
16th July 2017
Car Parking charges and poor grounds maintenance put for debate by Our West Lancashire
Read more
Much-loved Ormskirk Man Commemorated on Roadside Planter
8th July 2017
Our West Lancashire unveil plaque on roadside planter they maintain in memory of well-known Ormskirk man
Read more
Second Independent elected in West Lancashire by-election
30th June 2017
OWL victory for Ian Davis in Derby Ward
Read more
Green bin fiasco at sheltered housing
23 June 2017
Council asks residents to pay twice for the same service!
Read more
Council make £391,000 cash surplus
19th June 2017
Call for reversal of cuts as council make large surplus
Read more
Time to halt house conversions to student accommodation
22nd May 2017
There's a glut of student property in Ormskirk - we don't need council planners to agree the loss of more family houses
Read more
Our West Lancashire reaction to Lancashire county council election results
6th May 2017
OWLs gain support of 1 in 5 voters in major boost
Read more
Revealed -Confidential Council Plans to install Enforcement Cameras on Car Parks
25th March 2017
Our West Lancashire criticise move to install cameras on Ormskirk council car parks saying it will drive away trade
Read more
Improvements possible at Fiveways junction
15th March 2017
Improvements still possible at accident blackspot after one way plans ditched as council finaly listens to resident concerns on Halsall Lane
Read more
OWLs would have scrapped planned green bin charge in council budget
23rd February 2017
Green bin charge completely unneccessary to balance the books and bad for the environment
Read more
New Questions arise for Cllr Moon
17th February 2017
Where does Cllr Paul Moon live? UPDATED: MP calls on Cllr Moon to resign
Read more
OWL Action Plan for pot-holed roads
13th February 2017
Ian Davis and Gordon Johnson call for a new approach to dealing with roads maintenance
Read more
Resident concerns on health services taken to decision makers
8th February 2017
OWL's Resident survey on local health services sent to local health chiefs
Read more
OWLs welcome new steam room for Park Pool
3rd February 2017
Large public petition against pool's closure marked a sea change in council attitude
Read more
Resident concerns over Ormskirk junction must be heard
18th December 2016
Residents in Halsall Lane, Ormskirk have questions that require answers
Read more
West Lancs councillor shouldn't claim two full allowances
15th December 2016
Cllr Paul Moon from Hesketh Bank is also a councillor in Wyre and clearly can't fulfil both jobs
Read more
Council Leader put on the spot
11th December 2016
OWLs ask resident questions on potholes and parking charges at this week's council meeting
Read more
Labour show contempt for local voters as they impose a green bin charge
25th October 2016
83% opposition to the charge ignored with the elderly and disabled most impacted
Read more
Local councillor revealed to be a councillor in two areas
23rd October 2016
OWLs ask Cllr Paul Moon how he can do his job effectively and whether he was straight with Hesketh Bank voters. UPDATED:OWLs call for Cllr Moon's resignation
Read more
960-strong petition against planned green bin charge
4th October 2016
Residents from every ward in the Borough unite to oppose £30 waste removal charge
Read more
Spare capacity in student homes in Ormskirk should lead to change in council's approach
26th September 2016
A halt should now be called to HMO conversions say Ormskirk OWL activist
Read more
Ormskirk churchyard spruced up
18th September 2016
Two dozen volunteers for our latest community action
Read more
West Lancs Roads the worst in Lancashire
12th September 2016
Information reveals the raw deal West Lancashire gets on road maintenance
Read more
Opposition to green bin charge grows
9th August 2016
First Lancashire council to introduce similar charge reports increase in general waste generated
Read more
Residents can now check councillor attendance records
2nd August 2016
Another policy success for OWL
Read more
Budget Cut Proposals should be scrapped
15th July 2016
Proposals show Labour council is out of ideas and utterly cynical
Read more
Publish Councillor Attendance Records
5th July 2016
Residents should be able to easily check that their councillor is diligently representing them
Read more
Ormskirk historic brand retained
26th June 2016
Public outcry ultimately secures commitment from Council Leader
Read more
Ask Us before you rebrand Ormskirk
30th May 2016
Town's residents call for a full public consultation
Read more
Another policy success for OWLs
19th May 2016
Council take up OWL policy of purchasing shop units in Ormskirk
Read more
OWLS win first seat on Borough Council
6th May 2016
Victory for Our West Lancashire in yesterday's elections
Read more
Get in the Know on Planning
17th March 2016
New guide allows residents to register to find out about planning applications in their area
Read more
"Extreme" litter picking
13th March 2016
OWL volunters get stuck in among the thorny bushes and brambles on latest litter pick
Read more
We Did It! Vital local bus service saved
9th March 2016
Success for residents after our petition reaps reward
Read more
Make your voice heard on bus service cuts
28th February 2016
Come to the event stall at Ormskirk Market this Thursday
Read more
New Pools for All by 2025
24th February 2016
Our West Lancashire commit to building new swimming centres in Ormskirk and Skelmersdale in their budget proposals
Read more
Not one young recruit at council in 2015
1st February 2016
New figures obtained by Our West Lancashire show Council need to do much more on apprenticeship and opportunities for young people
Read more
New car park for Ormskirk town centre first suggested by OWLs coming to fruition
14th January 2016
Council approves funding for new car parking at rear of town's station Park and Ride
Read more
Impact of Our West Lancashire in 2015 hailed as membership grows
5th January 2016
Our West Lancashire mark 1st anniversary with news of new recruits
Read more
Skelmersdale residents quite justified over Christmas decorations
21st December 2015
Our West Lancashire support calls for council to raise standards for Skelmersdale Christmas decorations
Read more
At last, the Council opens the door to Residents' Voice
13th December 2015
Good progress in Our West Lancashire campaign - though concerns remain
Read more
Tackle rash of To Let signs that blight Ormskirk
9th December 2015
Local activist asks council to take action to curtail the rash of To Let signs in the town
Read more
Flytipping rises sharply after county council introduce new waste disposal charges
9th November 2015
Question from local resident reveals a near 20% rise in flytipping
Read more
Press Statement on reduction from Two Managing Directors
28th October 2015
Main parties finally listen to our 400 name petition
Read more
Resident action while councils squabble
22nd October 2015
Jane Thompson organises a makeover of a prominent roadside planter neglected by local councils as they squabble over ownership
Read more
Victory for People Power - Thank You
19th October 2015
Statement on the commitment from both main parties not to close Park Pool
Read more
We're Listening to West Lancashire
3rd October 2015
News from the First of our Listening Events
Read more
Welcome for use of stickers to guide new residents in what waste goes where
28th September 2015
Idea suggested by a member of Our West Lancashire introduced by the council
Read more
Aluminium and more plastics can now be recycled
18th September 2015
A question from a resident posed by Our West Lancashire provides good news on recycling
Read more
Renewed call on Ormskirk Town centre
September 2nd 2015
Allow mobile phone payment for parking and buy retail property say Our West Lancashire as council considers town centre strategy
Read more
Spruce up for Ruff Wood
August 24th 2015
Our West Lancashire's latest community action day sees local gem sparkle.
Read more
Throwing open the doors of the council
5th July 2015
Ask a question of the council Leader in full council
Read more
Concern mounts over future of area's leisure centres
June 29th, 2015 UPDATED 1st July 2015
Council's Illegal delay is a cause of concern
Read more
Listening initiative launched
June 15th, 2015
On 800th anniversary of Magna Carta, the launch of a local listening initiative to ensure residents feel part of democracy in 21st century West Lancashire
Read more
Warm welcome for council planners' decision
June 13th, 2015
Our West Lancashire's, Peter Banks welcomes planners' decision but says council must get more hands on.
Read more
Decisions on Whitemoss and Glenburn cynical
May 22nd, 2015
Labour and Conservative parties have acted cynically in delaying decisions until after the General Election
Read more
OWLs will continue to work for local residents
May 10th, 2015
Cllr Adrian Owens makes pledge as new party outpolls Greens and UKIP and takes votes from both Labour and Conservative
Read more
Eve of Poll Message
May 6th, 2015
Vote for Change at West Lancashire Borough Council
Read more
Greater Voice for Residents
April 20th, 2015
Where we lead the main two parties scurry to catch up
Read more
The OWLs are coming
April 8th, 2015
Our West Lancashire candidates unveiled for local elections on May 7th
Read more
Our West Lancashire move to protect Leisure Facilities
March 29th, 2015
Council Independents nominate 4 leisure facilities as Assets of Community Value as consultants test "impact of closure".
Read more
Pressing need to boost opportunities for young people at Council
March 24th, 2015
Former council apprentice speaks out in favour of Our West Lancashire plans
Read more
Our West Lancashire support Skelmersdale residents in fight against tip expansion
March 21st, 2015
Our West Lancashire urge supporters to write to Eric Pickles urgently
Read more
Moving West Lancashire car parks into 21st century
March 16th, 2015
Mobile phone payment and top ups would reduce hassle for shoppers and boost trade
Read more
Ormskirk footpath given spring clean by OWL
March 7th, 2015
Volunteers removed twenty bags of rubbish from popular footpath in community action day
Read more
Warm welcome for council commitment on Grove Farm
March 3rd, 2015
No student housing commitment
Read more
Budget Meeting turned chaotic thanks to "David and Goliath"
February 27th, 2015
"Goliath" parties blunder on regardless
Read more
Restrict Student Housing on new Grove Farm Development
February 24th, 2015
Limitations on conversions to student houses need to apply to new Grove Farm estate in Ormskirk says Our West Lancashire member
Read more
"Obscene" to propose increase in councillor allowance budget when Chapel Gallery could close
February 22nd, 2015
Council meeting papers show proposal to raise councillor allowance budget while same meeting papers reveal leisure review is underway that could close leisure facilities.
Read more
Ormskirk town bus saved for now
January 30th, 2015
Our West Lancashire activist who organised petition welcomes reprieve
Read more
Council should look at purchasing shop units say Ormskirk members of Our West Lancashire
January 24th, 2015
More imagination needed from council on Ormskirk town centre say Ormskirk candidates
Read more
New Party Launched
January 12th, 2015
2015 sees the launch of a new group. Two party politics is failing West Lancashire
Read more