Ormskirk town shuttle bus safe for now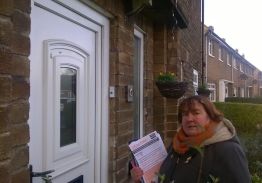 Jane Thompson, a prospective candidate for new Independent group, Our West Lancashire has welcomed the news that Scott ward's bus service to Ormskirk town centre is safe for now.
Ms Thompson organised a petition of local residents in December in regards to suggested cuts from Lancashire County Council. The council was threatening to stop funding the local bus service between Scott Estate and Ormskirk Town Centre, stop repairs of uneven pavements below 25mm, and to dim street lights by half to save money in the budget.
She said "I am delighted that because of pressure from YOU, the residents of Scott ward, the funding for the local bus service will continue. Thank you to all who signed or returned the petition. The county council also seem to be shifting their position on dimming street lights in the ward. However, they still plan cuts and I will work hard to help give local residents a voice."
She concluded, "Our West Lancashire is a new group of independents and is working hard to represent residents. Things need to change. West Lancashire is for residents after all and we aim to be a voice for people ignored and neglected by the main parties."
Back to News Index