Restrict Student Houses on new Grove Farm Development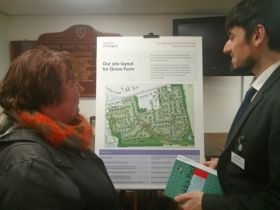 Student houses must be restricted on the planned new Grove Farm development says a local resident and Our West Lancashire member, who has written to the Borough Planner on the matter.
Jane Thompson, who lives in the ward where Taylor Wimpey plan to build 311 new homes off High Lane said, "It's vital that these new homes provide for local families and young people. It would be wrong for this housing to be snapped up by landlords looking to convert them to student accommodation. Worryingly though, the area of the development is not covered by the 5% limit on student properties brought in by the council after a surge in such conversions a few years ago."
"I live in Station Road and more than a quarter of the properties in our road are student properties. This can lead to unbalanced communities including a threat to our local schools, as young families have to move elsewhere. There can also be a clash of lifestyles."
"I don't want to see this situation arising on the new Grove Farm development which is why I have written to Mr Harrison, the Borough Planner and requested that steps are taken now to introduce restrictions on this new estate as well."
UPDATE: 3 March 2015 - See latest press release.
Back to News Index