Community Action - Christmas Tree Appeal
Let's restore this wonderful scene to Ormskirk's Town Centre - Donate today to the Community Appeal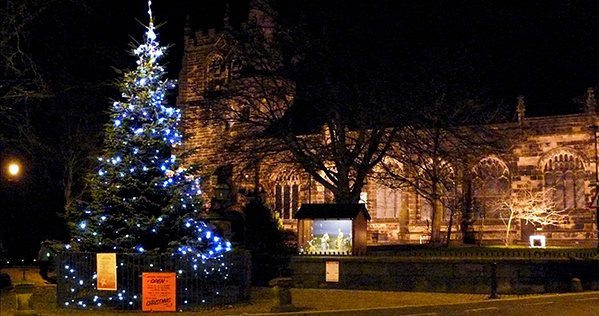 Last year, the Borough Council took the decision to stop funding the much-loved Christmas Tree by the Parish Church.
Now, a community effort, led by Our West Lancashire, has come together to launch a fundraising appeal to raise funds to reinstate it this Christmas.
The fundraising effort already has the support of Ormskirk Parish Church, Ormskirk Church of England Primary School and Scott's Butchers along with other Church Street retailers. The other churches and schools in the town have also been invited to join.
Steve Massam Landscape Supplies in Halsall will supply and erect a 26-foot Norwegian Spruce for cost price. The church are dealing with insurance arrangements while the Borough Council will fund the electricity costs for the lighting and provide the electrical supply.
Now all we need is your support. The fundraising target is £980. Please donate today using the button below.
Alternatively, you can send a cheque made payable to Our West Lancashire and marked Christmas Tree Appeal on the reverse to our office at 9 Greenacre, Westhead, Ormskirk, L40 6HR or donate to the collection tin in Scott's Butchers on Church Street.
UPDATE: 18th November 2017 - Due to the fantastic support of the local community including the town centre businesses and local residents listed here, the tree has been ordered and the arrangements for the lights switch on can be seen here.