Community Action - Christmas Tree Appeal 2018
Community Christmas Tree set to return again this year at Ormskirk Parish Church - Donate today to the Community Appeal

The much loved Christmas Tree and Crib outside Ormskirk's Parish Church has returned again this year after its successful reinstatement last Christmas (see photo below taken at the light switch on Sunday 25th November 2018).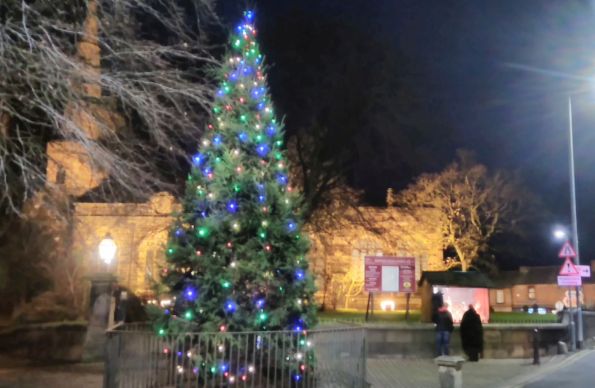 Once again, Halsall-based Massam Supplies Ltd worked at cost price and they supplied a lovely 26 foot Norwegian Spruce. Skelmersdale's P&R Electrical carried out the lighting of the tree and the Parish Church have made insurance arrangements. The Borough Council have stored the crib once again and are funding the electricity costs for the lighting and allow use of their electrical supply.
We had a healthy surplus towards this year's tree and so we we did not approach hard-pressed retailers this year. However, there has still been a financial shortfall to cover. We've also bought new additional lights for the tree to give a little extra magic this year.
We're still short of this year's fundraising target of £500. Please donate today using the button below.
Alternatively, you can send a cheque made payable to Our West Lancashire and marked Christmas Tree Appeal on the reverse to our office at 9 Greenacre, Westhead, Ormskirk, L40 6HR or donate to the collection tin in Scott's Butchers on Church Street.
Thank you to our donors so far this year - the donor list is here.